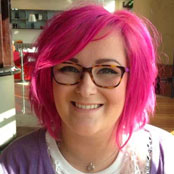 Being a wheelchair user, I have two main issues when it comes to underwear. Knickers being so low that they hardly cover my modesty when transferring in and out of my chair, and bras riding up my back while the straps slowly slide down my arms… neither is particularly sexy.
Fortunately, Bluebella have a (very gorgeous) solution: the  Ophelia set. Both bra and knickers are pretty, with  delicate lace covering the back whilst the front is chic and  almost satin. However, the aesthetics don't overpower the  functionality, and the racer back, front fastening bra stays  in place all day long, with no loose-strap faux pas to speak  of. Similarly, the knickers are a true boudoir brief, but are  also robust enough to rise a little higher and stay there,  with comfort that cannot be rivalled.
For sexiness and practicality, this is the set to buy.
Emily Rose Yates – @EmilyRYates